Safe Drive Training maintains a fleet of training cars across the Asia-Pacific region.

This includes new and older cars, front and rear wheel drive cars, manual and automatic cars, cars deliberately fitted with bad tyres, cars with high performance tyres, cars with old suspension and cars with enhanced suspension. New cars are supplied under sponsorship arrangements with various manufacturers, who are keen to have participants test drive their cars and to enhance their driving skills.
These vehicles are supplied for all participants attending the SAFE DRIVE TEST DRIVE High school/young driver safety programs. This gives novice drivers an opportunity to sample a cross-section of vehicles which are setup for particular learning outcomes. Whilst it might be exciting to attend a driving course and access a new car supplied by a prestige manufacturer which is equipped with all of the latest safety innovations, this training might be of little benefit if the participant's real drive vehicle has none of these features (or has inferior tyres, older suspension, no ABS). For this reason we aim to supply a diverse range of vehicles setup if different ways.
In addition these vehicles are available for hire for Corporate Days or are used for our instructors to provide demonstrations or for Company Fleet participants to compare with their own work-supplied vehicle.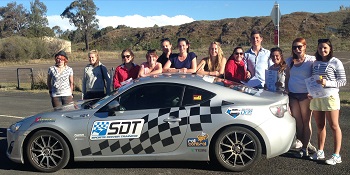 The SDT training fleet for 2016 includes the following vehicles:
Australian Training Vehicles:
Toyota GTS86: Sports Driver Training Car (for skidpan and corporate training), 17 inch Starfire Tyres, Enkei Wheels, SuperPro Roll Control Sway bars, TEIN suspension, SuperPro bushes
Mitsubishi Triton (Blackline) : Automatic, ABS, Stability Control, 5-star ANCAP, Cooper Tires fitted
Suzuki Grand Vitara: Automatic, Cooper Tires
Mazda BT-50 (4x4 Safe Dirt Training): Manual, Bullbar, 2 inch lift, Cooper Tires
Kia Sportage (4x4 Safe Dirt Training): Manual, Cooper Tires fitted
Mazda CX-5: Automatic/tiptronic, New car, AWD, ESC demonstration vehicle
Nissan 200SX (S1 model): Drift and Track Training car, dual controls fitted, TEIN suspension, partial locked diff, lower diff ratio, performance brakes (ceramic pads, slotted rotors), performance exhaust, hi-flow radiator, roll cage, race seats, drift steering wheel, Drift Box performance meter fitted, SuperPro bushes, hydraulic handbrake and dual controls.
Hyundai Excel Cup Car: Sports Driver Training Car (for circuit and motorkhana), fitted with roll-cage, Race seat, upgraded brakes and clutch
1st CAR SIMULATORS: At SDT we have chosen not to supply a fleet of brand new cars for our Safe Drive Test Drive novice driver program as a new car may not typify the first car a young driver can afford to purchase. Therefore we deliberately supply older cars for better learning outcomes and training experiences. (These cars are used only for South-east Queensland courses)
Hyundai Excel (A): Manual, performance tyres, new suspension, no ABS or ESC

Hyundai Excel (B): Manual, cheap tyres, old suspension, no ABS or ESC

For 2018, all training vehicles are fitted with the following safety systems:
Fire Extinguisher
First Aid Kit
IVMS (In-vehicle Monitoring System) which records cabin audio and reckless driving
| | | |
| --- | --- | --- |
| | | |
| | | |
| | | |
PLEASE NOTE: vehicles subject to change, not all vehicles can be guaranteed as available for each course