Safe Drivers are Lifesavers
For every action by a driver there is a reaction from the vehicle and tyres that will occur.
Do you realize how your vehicle will respond to your actions...especially at a critical moment?
Do you understand the balance between acceleration, braking and steering that occurs, especially at the dynamic limits of a vehicle and its tyre grip?
A competent driver always drives within their own and their vehicle's limits. However, during the licencing process, these limits are not tested. All drivers benefit from experience, but some driving experiences are rare events. This course allows drivers to experience these rare or unexpected events in a safe, controlled training centre.
Therefore the Advanced Car Control Course is aimed at educating drivers through practical experience on how they should and shouldn't react to adverse driving situations.
Our philosophy is to enhance your skills and knowledge about the complexity of driving and the risks associated without creating overconfidence in new found abilities. We will reinforce the limitations all drivers can face in terms of skill failures, vehicle limits and human reactions.

Course content
The 8 hour course is 85% practical and involves advanced exercises on wet and dry bitumen; plus cornering techniques at venues with a circuit. You will also learn through experience how to recognize and control skids on a wet skidpan or at some venues by using our unique Skid Tyres.
We will teach you Advanced Vehicle Control Skills such as:
Correct Steering and Posture for optimum control and comfort
Braking Skills (Threshold, ABS, Braking in Corners)
Reactive Manoeuvres at Speed (Slalom and Emergency Lane Change)
Cornering Techniques and Driving Vision
Correct use and limitations of vehicle technology such as ESC, EBD, ABS, TC
Skid and Slide Recognition (Understeer, Oversteer, Spins)
Skid Prevention Techniques
Skid Control (Reactive Throttle Control, Steering correction, Balance Points)
Frequently asked questions (FAQ):
Who can attend the course?
If under 21-year-old we strongly recommend participants undertake the Safe Drive E-learning (training videos) which focuses on the essential driving theory and proactive crash avoidance strategies.
How many people per course?
To allow personalised training, each public session is limited to a maximum of 12* drivers. Courses for groups can be run for larger groups (up to 24 pax) at a discounted group price.
*Course will be rescheduled if minimum participant numbers are not reached
When are courses conducted?
Most courses are held on Saturdays, Sundays and Public Holidays. New dates can be formed for group bookings. Once booked in, attendance details and a map will be sent to each participant.
Where are courses conducted?
Do I use my own car?
Yes, this program is most often attended by participants wanting to use their own vehicle (eg. learning how to handle their new vehicle)
The driving exercises will not put excess wear on any vehicle components. Tyre wear will be equivalent to driving 800km on the highway.
But we can also hire vehicles for your course. Your fee covers fuel and tyre wear and all insurance (whilst under our instruction). Participants who break our rules or don't follow our instructions may be liable for any damage caused. Please note: car hire means a car is supplied for all your driving manoeuvres but other drivers might also access this car when not being used by you.
Are the cars insured during the course?
Car insurance only covers vehicles on gazetted roads so it is highly unlikely your own car will be insured at driving courses conducted on a motorsport circuit (even if it is training and not lapping) or if high speeds are involved.
We conduct these courses at driver training centres and therefore some insurance companies do cover clients cars, but some don't and some even discount insurance for driver attending such courses. If asked, please inform your insurance company that the training is not done on racing circuits, there are no speed events or racing and maximum speeds are less than 100 km/hr. Remember you are attending to improve your driving, your insurance company should support this as they will ultimately benefit from you being a better driver.
The vehicles we supply are fully insured for your use and provided you are following our instructions you will not be liable for any damage caused. If your car is not covered, most participants still attend as there is a very low risk of any problems occurring, otherwise you might wish to hire one of ours for the entire day.
What is the cost?
BRISBANE: RACQ Mobility Centre Prices are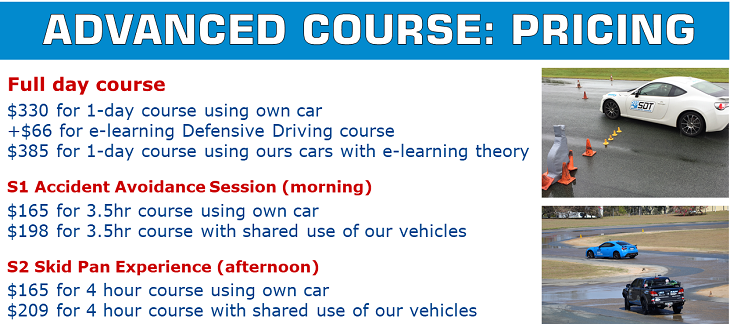 Course Gifts/Handouts:
| | |
| --- | --- |
| | Certificate of Attendance: All participants will receive a quality Certificate of Course Completion for display in their portfolio. Certificates can also be used to show employers as proof of driver training undertaken. Participants can also show certificates when renewing car/life/medical insurance as rebates or discounts are available from certain insurance companies. |
| | Bumper Sticker: By completing the advanced car control course you have more knowledge and awareness than most other road users...so brag about it! In the theme of L and P plates, fit the A+ advanced driver on-board sticker to your vehicle. This will show other road users of the commitment that you have to safe driving. The bumper sticker has a 2-year lifetime for sun exposure, so as it fades it will serve as a reminder that it is time for you to refresh your skills and knowledge with more training. |
Course Booking Information/Forms:
Feedback from participants:
"Last Saturday 29 Jan. I attended a 1-on-1 advanced training session over half day. Firstly I would like to let you know, not only how much I enjoyed the training, but also how valuable I found it. My instructor was Rob Hackwood. My background is in education so I feel well qualified to advise you that he did a great job instructing me. It is not always easy for a young man to take on a very much older student and have both feel comfortable but Rob did so very easily. He clearly has a strong technical knowledge about how a vehicle performs and reacts and uses it to assist in his instruction. I liked his calm, friendly manner and the way he stretched his expectations of me as we progressed through the lesson, pushing me to improving my execution and performance. Secondly, Rob and I had to work separate to, but in cooperation with another group managed by Denis and another instructor, whose name I forget but who was clearly a very nice fellow. (I had Denis as an instructor on my first course and he was excellent). What impressed me on Saturday was how well your three instructors worked together to accommodate the needs of each other and all participants. You clearly have an excellent team of instructors." Brian Sams (Audi RS4 owner - January 2011)
"I wish to send my sincere thanks to Rob and Denis who were the instructors on my recent Advanced Car Control Course. I found Rob and Denis to be extremely helpful, knowledgeable and patient. I don't think the group could have had better instructors. I wish them all the best and thank them very much for the new skills I have gained." Barry D'Arcy (December 2008)
"Thank you for the Advanced Car Control course that my mate Tim and I attended at the Sutton Training Centre. Ian and Graham were excellent instructors so please pass on our gratitude for a very instructive and entertaining day that really should be compulsory for all drivers. I came away "looking to the horizon" for what lay ahead and driving more patiently. I have to agree with your belief that the more you know about driving the slower you'll go. I would still like to learn more about the vehicle I drive, in the relative safety of a race circuit, and look forward to seeing what you will be offering at Marulan once it comes online. Some track time with one of your guys would be great experience. Thank you again for an excellent course and personally following through from my original enquiry. Looking forward to spending some more time in the future with the professionals from SDT." David Garrett
"I'm writing to commend you and your staff for their invaluable instruction during the Advanced Driver Training Course that I attended today. I'm fortunate to be driving a performance sports car and their guidance and practical tips on safely driving my car was not only enjoyable but immensely rewarding. In particular, could you extend my sincere thanks to the instructors - their relaxed but very professional approach not only put everyone at ease but allowed me to gradually build confidence to extend my driving ability. Well done. Cheers." Allan Soriano
"I wish to thank you for training Nicholas in the High School course. He was amazed at the number of things he learned (things he had not even imagined could happen). The Advanced Course then was even better for Nicholas plus Colin (my husband) and myself. Colin and I have been driving for 20 years and we both learnt alot from the day (even though Colin thought he knew it all). It was excellent for Nicholas to experience things in a controlled environment and not in a real experience on the road. Thank you for a great day. Keep up the good work. Every person who gets their licence should have to attend this course." Karen Kuzewicz
"At 42 I thought I wasn't a bad driver but the instruction given during the Advanced Car Control course got me doing things in a car I never thought possible. The safety side of this course has made me a much more aware driver on the road. Thank you Safe Drive Training". Darryl Jamieson
"Thank you for the opportunity, this training is worth its weight in gold. Far too little prominence is given to developing highly skilled drivers as a road safety tool. Not only compulsory, skills should be regularly updated (say 12 month intervals) to identify and eliminate bad habits that develop incrementally. Thank you". Ralph Walton
"I would like to pass on my thanks to you and the team for the excellent training session that was run in Canberra on 5 Apr 06. My daughter was a participant and from the information she provided it was an extremely informative and interesting day. The team presented the training in a relaxed manner that put Pippa at ease and allowed her to gain benefit from the training. The course has reduced some of the fears that I have with a teenage girl driving around like a ratbag. Thank you again, and all the best. It was money well spent." John Sokolovic
"Yes, the course was a great success, I have had many comments about how much the team enjoyed it and how much they learnt from it." Murray Stoll
"In my opinion advanced driver training programs provide drivers with the opportunity to know the limits of their cars and their personal abilities during various simulated conditions. They allow you to practice emergency accident avoidance through braking and direction changing. They teach you how to set up your seat and mirrors for maximum vision and control. They let you experience how long it takes to stop in an emergency and hence give credence to the notion of being proactive rather than reactive. Sure activities like skid pans are competitive and even fun, but these behaviours are not taught for reproduction on the road, rather to highlight limitations of car and driver. Like Mr T, "I pity the fool" who calls advanced driving training counter-productive." reproduced from http://www.caradvice.com.au/12924/caradvice-to-support-driver-training-programs