CLICK HERE TO DOWNLOAD: SDTD Course Brochure
Videos about this course
| | |
| --- | --- |
| Video Game Mentality | |
| | |
| | |
| --- | --- |
| Logbook Hours not credited | Lockyer Safe Drive (2004 - 2006) |
| | |
Why invest in more driver training?
| | Worldwide road crashes kill 1.2 million people per year (3242 per day) and injure or disable up to 50 million people annually, with young drivers on P-plates being over-represented in these crash statistics. Therefore if there is one certainty in life, it is that young drivers are accidents looking for a place to happen. |
| --- | --- |
As part of our commitment to improve the driver education of young novice drivers, Safe Drive Training commenced High School based driver education programs in South-east Queensland schools in 1996 (the program was originally known as the Quest Safe Drive 2000). Since then our experience in training over 60,000 novice drivers has unlocked the secrets, to reduce the risks for young drivers.
The SAFE DRIVE TEST DRIVE: Young Driver Safety Program is a special one-day driver awareness course aimed particularly at young and novice drivers. It is like a Defensive Driving Course but offers participants the following unique advantages:
A fleet of specially modified vehicles is provided to allow participants to test drive a range of vehicles to understand their characteristics
Fatal Vision Alcohol and Drug Impairment Simulation Goggles are used for participants to experience in safety the impairment of alcohol and drugs on driving performance (we are the Australian distributors for these goggles)
Unlike other driver training programs this course is based on best-practice methodology to reduce over-confidence and risk taking in participants by showing them the limits of their ability and the limits of a vehicle.
Unlike other driver training programs this course changes learned behaviour and habits using "Right-way: Wrong-way" teaching principles.
FREQUENTLY ASKED QUESTIONS
What will I learn?
The full day course involves a mixture of PowerPoint lectures, video presentations, demonstrations and numerous in-car driving experiences to enhance your active driving skills and road safety awareness (all based on Safe Drive Training's extensive research into road crashes and driver behaviour).
The course covers:
CONTRIBUTING FACTORS IN CRASHES (THE REAL FATAL 4)
VEHICLE MAINTENANCE
TYRE SELECTION AND CARE
REACTIVE CAR CONTROL SKILLS
DRIVER ATTITUDE AND BEHAVIOUR
WET WEATHER DRIVING
RISK TAKING & PEER INFLUENCES
VEHICLE STOPPING DISTANCES
LOW RISK/SAFE DRIVING TECHNIQUES
ROAD LAW AND DEALING WITH HAZARDS
SKID PREVENTION AND RECOVERY
VEHICLE TECHNOLOGY (ABS, SRS, ESP)
PROACTIVE DRIVING
At the end of the day, you will be surprised how little your driver's licence taught you and what years of experience have failed to show you.
What is the REAL FATAL 4?

Safe Drive Training developed the Real Fatal 4 Factors in Novice Driver Crashes in 1999. It is our belief these 4 factors are the underlying reason why so many novice drivers are killed on Australian roads.

OVERCONFIDENCE
RISK-TAKING
INEXPERIENCE
PEER INFLUENCE

Whilst certain vehicle control skills might assist in the seconds before an impact, the

Real Fatal 4 Factors

are behaviours which create the dangerous situation in the first place. Empowering novice drivers to understand these factors can assist with better decisions minutes (not seconds) before the potential crash.
Who can attend?
The course is open to all drivers of any age. Many parents attend with their teenager and benefit from the experience. However the majority of participants are under 25. Safe Drive Training requires all participants to have had a minimum of 5 hours of driving experience. This is not a learn-to-drive course. Please do not attend if you cannot drive, steer or brake
Why attend the course?
Novice drivers already think they are experts and that a crash won't happen to them, but this course can reduce the risks, the embarrassment, injury and enormous costs of having a crash. The course is also heaps of fun and a great experience.
But I am already a good driver!
Are you sure? Most people regard themselves as an above average driver. Good drivers are not born they are made. Our course will show you things you will not otherwise discover about driving safely. We guarantee that even the most experienced driver will learn a lot from this course.
We make good drivers out of those that already think they are!
Where are the courses conducted?
For 2019 programs are planned in the following Australian locations:
CAIRNS (QLD):

Cairns Speedway or Springmount Dragstrip

TOWNSVILLE (QLD):

1300SMILES (Cowboys) Stadium

PROSERPINE (QLD):

Whitsunday Driver Training Centre

MACKAY (QLD):

Mackay or Sarina Showgrounds

ROCKHAMPTON:

CQLX Gracemere Saleyards

EMERALD:

Central Highlands Driver Training Centre

MARYBOROUGH (QLD):

Maryborough Showgrounds

ROMA (QLD):

Ironbark Raceway

BRISBANE (QLD)- 2 venues


Qld Advanced Driver Education Centre, Willowbank
Mt. Cotton Training Centre, Cornubia (near Loganholme)

TOOWOOMBA (QLD):

Greer Park Raceway

WARWICK (QLD):

Warwick Dragstrip

STANTHORPE (QLD):

Carnell Raceway

GRAFTON (NSW):

Grafton Sporting Car Club Hillclimb Track

ARMIDALE (NSW):

Armidale Traffic Education Centre

TAMWORTH (NSW):

Oakburn Park
Can I use my own car?
No, because you won't always drive your current vehicle. A fleet of vehicles is supplied for use by students in this program. Both manual and automatic vehicles are available. The training cars supplied have been modified for key learning outcomes. Cars can have bald tyres, bad suspension, good tyres or good suspension, be front-wheel drive or rear-wheel drive and be automatic or manual. This allows students to experience key learning outcomes pertaining to safe driving. Participants are encouraged to test drive all cars to understand the unique characteristics of each.
Click here for more information on our training car fleet

If you want to use your own car you can do so at our Advanced Car Control course.
How do I enrol?
Please download our Enrolment Form:
Private participants should return the enrolment form and full payment to Safe Drive Training. Please note the date you wish to attend the course on. If attending with a school group, return the enrolment form to the course co-ordinator at your school.
Booking Policy
Payment must be made in advance to confirm your attendance. Failure to attend a booked course is just like any concert, your seat is still consumed in your absence. Therefore under no circumstances will a refund or rebooking be available for non-attendance unless cancellation is received more than 2 days in advance.
Does the course count towards logbook hours?
Amazingly, Queensland Transport does not recognize attendance at any defensive/advanced driving courses as counting towards the 100 hours of logbook experience required by L-plate drivers. Therefore the hours of essential driving theory and practical skills training undertaken at this course cannot be credited towards your logbook hours. Participants at this course will be asked to sign a petition to change this decision.
Click here to read the Courier Mail story on this issue
OPTIONAL: SAFETY PACK
All course participants are invited to purchase a Safety Pack as an optional extra.

SAFE DRIVING PLEDGE
The Safe Driving Pledge is a committment to safe driving that a novice driver can make to their parent's. This document can be downloaded, discussed, enacted and placed in a visible location to remind the novice driver of the pledge they have made.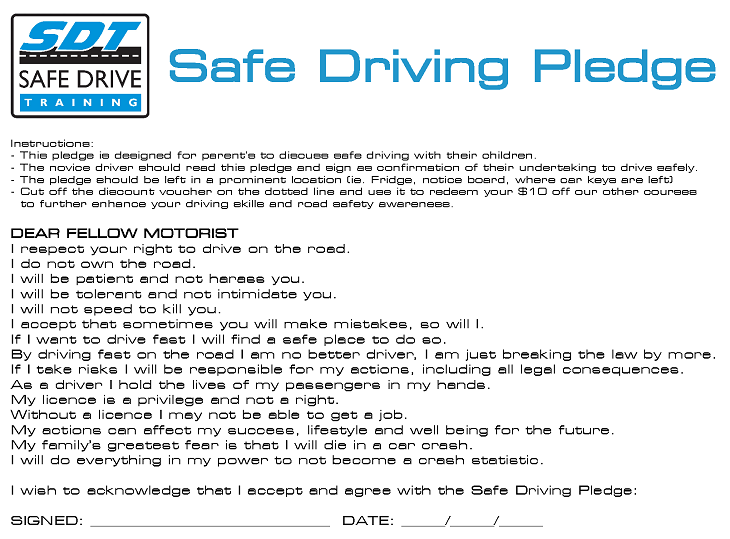 TESTIMONIALS
Check out the many testimonials from parents, teachers and novice drivers. This course has been creditted with saving many lives. Most participants believe this course should be compulsory!

COURSE CERTIFICATE & HANDOUTS:
Course Notes: All participants receive FREE ACCESS to our on-line Safe Driving Directory which contains 100's of pages of safe driving tips and road safety information which is constantly being updated and expanded. Unlike other training companies we do not charge fees for passwords to access on-line information

Certificate of Attendance: All participants will receive a quality Certificate of Course Completion for display in their portfolio.

Many of Australia's largest companies now require staff to undertake Defensive Driving Courses as part of their employment. As such this certificate may be beneficial to participants when applying for a job position especially if driving is involved.

Participants can also show certificates when renewing car/life/medical insurance as rebates or discounts are available from certain insurance companies.
SAFE DRIVE GUARANTEE:
We are so confident that our driver training course will make better drivers, we GUARANTEE IT.

Any participant completing the SAFE DRIVE TEST DRIVE course that has an AT FAULT accident within 12 MONTHS OR 20,000 km of the course date will be able to re-attend the SAFE DRIVE TEST DRIVE course AT NO EXTRA CHARGE
WARNING ON POST LICENCE TRAINING:
Research has shown that the training methodology adopted by some advanced (post-licence) driving schools is flawed. The courses introduce advanced/motor sport car control skills without addressing behavioral and attitudinal changes in those gaining these skills. This in turn can produce drivers with greater confidence who readily accept more risk; possibly leading to an increased level of crash involvement for course participants. All Safe Drive Training courses are based on proven worlds best practice training techniques to ensure participants improve their driving safety and ultimately become the best driver they can be.
DOWNLOADS:
CLICK HERE for School Driver Training programs
PROMOTIONAL VIDEOS: CLICK COURSE NAME BELOW