SDT-Simulator Driver Training offer a range of driving simulators to purchase or rent for conducting road safety programs, driver training, safety expos or road safety awareness campaigns.

CLICK HERE TO DOWNLOAD THE FULL SPECIFICATIONS AND PRICING FOR OUR SIMULATOR RANGE
The SDT-152 simulator is currently in use by:
Port Kembla Hospital (patient rehabilitation trial)
Afford in Sydney (mental health patients)
Kalgoorlie YMCA for youth road safety programs
Optalert for fatigue research and R&D testing in Melbourne
The SDT-153 simulator is currently in use by:
Australian 4WD and Advanced Driver Education (Brisbane)
South Australian Police for high school driver safety programs
Queensland Police (2 units) for high school driver safety programs (in Cairns and Townsville)
Murrumbidgee Youth Detention Centre in Canberra (for traffic offender programs)
Northern TAFE (2 units for youth and aboriginal road safety in Karratha and Port Hedland)
Weill Cornell Medical College in Qatar (2 units) for research into driver fatigue
Warringa College in Melbourne for high school driver safety programs
Tasmania PCYC for high school driver safety programs
Darwin Prison (for traffic offender programs)
PCYC Auburn (Sydney) for high school driver safety programs
Indian Ocean Group Training (2 units) for driver education on Christmas Island and Cocos Islands
Lafarge Holcim for driver training in United Arab Emirates
Our simulators have been rented for major events across Australia by Federal and State Police, the Australian Drug Foundation and many multi-national companies as part of their annual conferences or product exhibitions.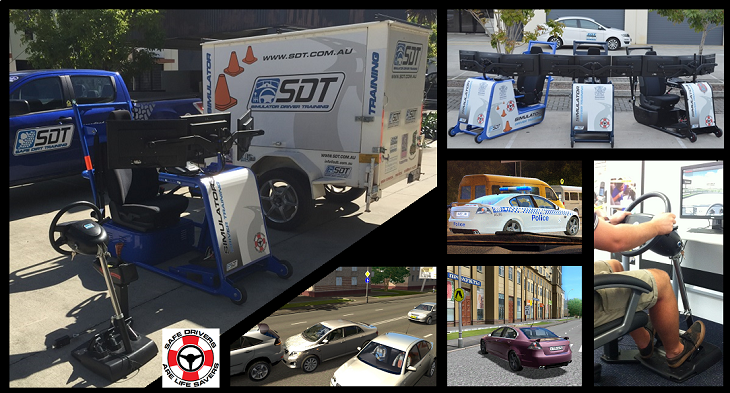 CLICK HERE TO DOWNLOAD THE FULL SPECIFICATIONS AND PRICING FOR OUR SIMULATOR RANGE
Simulator Rental
Simulators are a great way to engage with an audience or bring attention to your product or service. Many companies use simulators at their events to draw crowds to their exhibition stand and to hold the audiences attention (spectators crowding around to observe and/or lining up for a drive).
The SDT-152 and SDT-153 simulators can also be used with driver training software or as a race-car simulation platform.

Safe Driving Workshops
If your company or school is planning a safety day or large event, a simulator can be used for imparting safe driving tips and to show the ramifications of bad driving habits (texting, reaching for an item, tailgating, speeding, drunk driving with beer goggles)
SDT can provide your organisation with a simulator plus a Simulator Driver Trainer to facilitate a Simulator Safe Driving Workshop.
The program can include Safe Driving Lectures on your choice of topics, interactive simulator driving demonstrations, walk-the-line sobriety challenges with Fatal Vision Beer Goggles and the D.I.E.S. walk-the-line mat and use of the Distract-a-Match Boardgame.
Contact us for more information and a quotation (email: simulators@sdt.com.au)

Simulator Trailer Hire

We also have a triple screen simulator mounted inside an enclosed trailer. The trailer has 3 opening sides and we supply stools to allow participants to sit around the trailer and view the driving activities.

This is available to hire for $990 per week or $3300 per month + delivery ex-Brisbane. 2 hours of on-site training is provided upon delivery to the event location or we can supply a driver trainer to facilitate the sessions.

The simulator will requires a secure sheltered area (with power access).

NEW: SDT-151 SIMULATOR

This portable driving simulator is controlled by a unique mini-car interior, which has a steering wheel, 5-speed gear lever, handbrake, foot pedals (clutch, brake and accelerator), ignition key, indicator stalk, wiper stalk and horn. The simulator comes with software, so the user only needs to plug into an existing computer or laptop and slide a seat up to the controls and away you go.
Downloads: